潍坊外贸网站案例-宇润国际贸易
更新时间:2018-03-15 08:27 已阅读: 次 | 作者:骏马网络 来源:潍坊做网站 网址: 完成日期: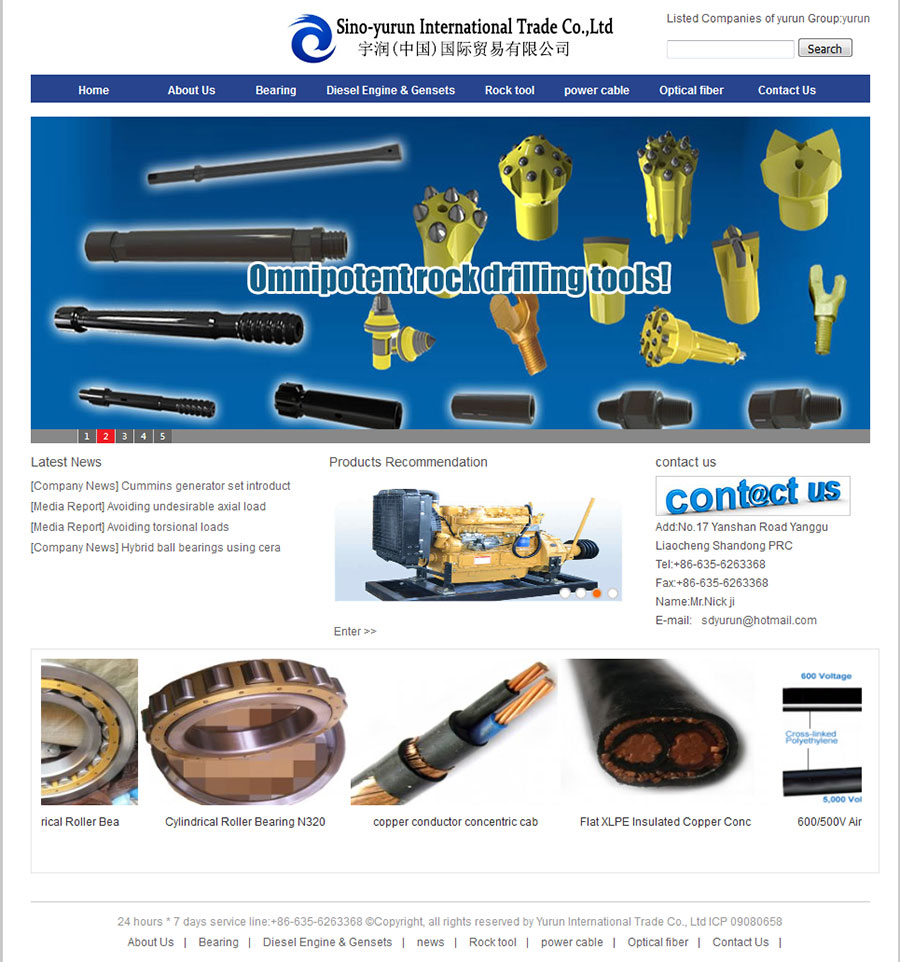 Our company is a large international trading company that mainly exports our group products: all kinds of bearings, power cables, optical fibers, rock drilling tools, diesel engines and generator sets.
◆ product range
Bearing
We rely on the world's largest bearing supplier Linqing, China, to provide high-quality bearings and professional services. Competitive prices and fast deliveries have contributed to the growth of global sales networks, especially in the United States and Europe. We can supply all kinds of bearings you need and we are becoming the leading distributor of bearings.
Power cable
Power cables are used to transmit and distribute electrical energy. Power cables are commonly used in urban underground power grids, power station lead-out lines, power supply within industrial and mining enterprises, and over-the-river transmission lines.
In the power line, the proportion of the cable is gradually increasing. Power cables are cable products used to transmit and distribute high-power electric power in trunk lines of power systems, including various insulated power cables with various voltage levels of 1-500KV and above.
Optical fiber
Our products, which support different transmission technologies such as Ethernet, Internet Protocol, Asynchronous Transfer Mode, Synchronous Optical Network and WDM systems, provide greater bandwidth for backbone, MAN and access networks to meet Voice, digital, image transmission and other business needs of broadband resources. Applicable to all types of fiber optic cable structures, including optical fiber cable, loose stranded stranded fiber optic cable, skeleton optical cable, the center tube bundle optical cable and tight sets of optical cables.
Achieve 1260-1625 nm full-band transmission, the spectral bandwidth increased by 50%, improve the system transmission capacity; Superior optical characteristics to meet the high-speed transmission requirements of DWDM and CWDM systems; Compatible with the existing 1310 nm transmission equipment; Coating Good protective and stripping performance; Precise geometrical parameters ensure low splicing loss and high splicing efficiency.
Rock tools
The company's products include light brazing tools, heavy brazing tools, down-hole drilling tools, coal tools and planing road teeth, covering drilling and drilling systems in all fields
The company is located in:
Diesel and generator sets
We rely on China Weifang China Electric City, to provide our clients with all kinds of diesel engines, diesel generating units, natural gas generators, biogas generators, water pumps and other units. Competitive prices and fast deliveries have contributed to the growth of global sales networks, especially in Africa, Southeast Asia, Central Asia and Europe. We are becoming a leading distributor of diesel generators.
文章引用:https://www.wfwz.net/anli/190.html如需转载,请注明出处。